Over the years, Oklahoma City Public Schools has been home to some of the best athletes and teams in the state of Oklahoma. Whether you're walking the halls of Capitol Hill, Classen SAS at Northeast, Douglass, John Marshall, Northwest Classen, Southeast, Star Spencer, or U.S. Grant, you'll see evidence of the district's proud and storied sports culture displayed in glass cases, hanging from rafters, and stitched across letter jackets.
But despite this championship reputation, it wasn't long ago that athletic programs across the district were faced with historically low participation rates, decaying facilities, and lack of school pride.
Then, in 2012, a renaissance began to take shape within OKCPS athletics.
Working alongside the district and community partners who share our belief that sports help kids discover their purpose and potential while preparing them to succeed in life, we began rebuilding the athletic infrastructure from the ground up. With new fields, tracks, and athletic facilities dotting OKCPS campuses across the city, the district is back on the fast track to creating champions on and off the field.
And thanks to a renewed focus on building up the district's running sports culture, this fast track doesn't get any faster than the actual track.
OKCPS Is on the Fast Track
Earlier this month, OKCPS was represented in 27 individual and team events at the 4A, 5A, and 6A Track & Field State Championships, with the two fastest marks in 5A belonging to OKCPS student-athletes.
In the 100m championship race, John Marshall High School's Bryce Stephens sprinted past the field with a time of 10.73. He also finished 2nd in the 200m.
And in the 200m championship, DaMarion Harris from Southeast High School crossed the finish line first with a time of 21.91. He also placed 4th in the 100m.
But the best part about seeing these two student-athletes win on the track is knowing they're on track to find success away from it, too.
Bryce Stephens, 100m – 10.73
The 100-meter state champ isn't just fast; he's a multi-sport athlete that shines in the classroom, too, carrying a 3.33 GPA.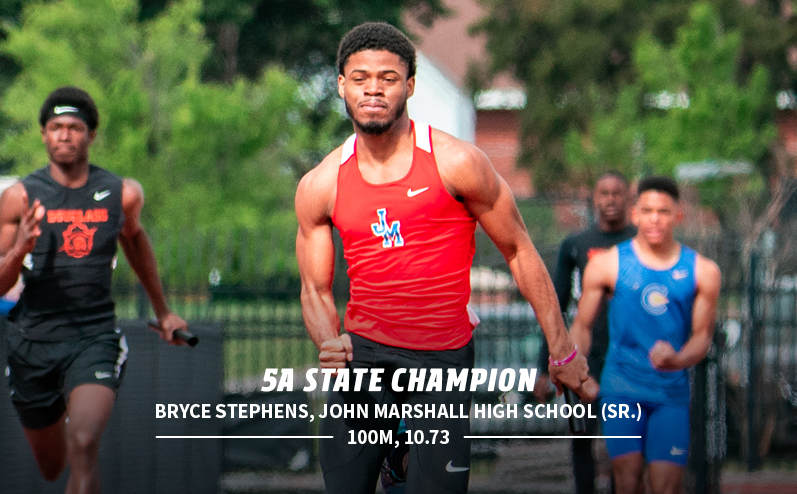 According to John Marshall Assistant AD and Boys Track Coach Anthony Gardner, Bryce sets the example for what he wants other student-athletes to become – a competitor that leads by effort on and off the field.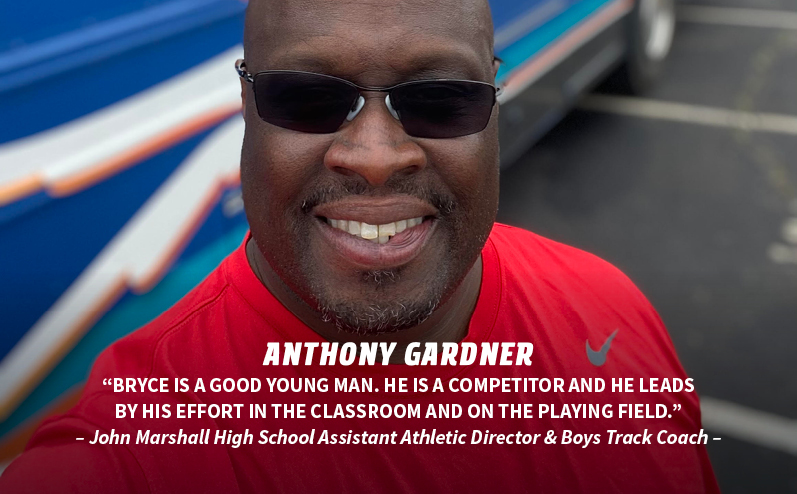 In addition to winning a state championship in track, Stephens earned 4A All-State honors as a wide receiver, was named district WR of the Year, All-City Offensive Player of the Year, and John Marshall High School Male Student-Athlete of the Year. He recently signed with the University of Arkansas to play football.
DaMarion Harris, 200m – 21.91
The most impressive thing about Harris isn't his speed (the 200m state champion also posted the fastest 100m state qualifying time in 5A before finishing 4th at the state meet) or that he's only a sophomore, it's that he's not letting his success go to his head. Instead, he's using it as motivation.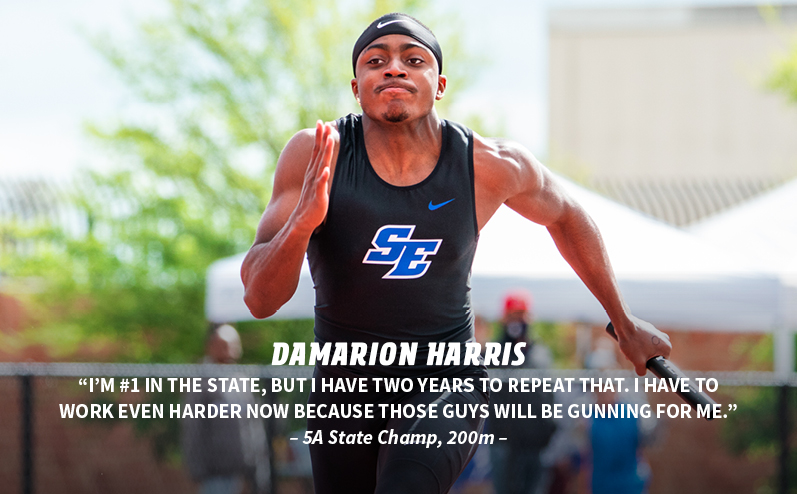 Harris knows he's the guy to beat and he's prepared to work even harder to stay on top. But that doesn't come as any surprise to Harris's track coach, Kenneth Blair, who says Harris has helped create a winning atmosphere at Southeast High School.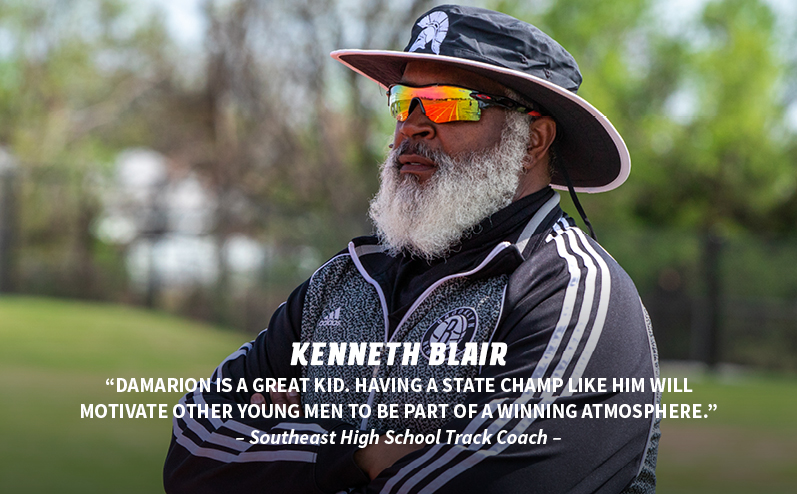 Harris's goal is to qualify for the USA Olympic Track Team and play in the NFL.
The Future Runs Here
The Simon Greiner Program is a collaborative initiative between Don & Shellie Greiner, Cleats for Kids, and Fields & Futures with the goal of igniting a passion for running sports in OKCPS.
"We are exceptionally proud of these two young men and their coaches," said Simon Greiner Program Director David Crynes. "To win an individual state championship is a life-time achievement. Bryce and DaMarion will forever be known as State Champions, and their titles will feed their team culture to excel even more."
"As we get the Simon Greiner Program fully in motion," Crynes continued, "these are the types of accomplishments that give us the traction and momentum to move forward."
Your support of the Simon Greiner Program helps put kids like Bryce and DaMarion on the fast track to success in the classroom, on a team, and in life.