Last year, the Simon Greiner Track & Field Program teamed up with Oklahoma City University Cross-Country and Track & Field to bring a bold idea to life. That idea was to create a unique and competitive community running event that brings together runners of all ages, skills, and experience levels.
This idea became the OCU Stars Mile Night featuring the Simon Greiner Elite Mile, and the concept was simple—mix open races with elite competitive running in an effort to promote the sports of track and distance running in the OKC community.
The event is anchored by the Simon Greiner Elite Mile men's and women's races, giving the best of the best an attempt to post an official sub-4:00 mile on an Oklahoma track.
Bigger…Faster… BETTER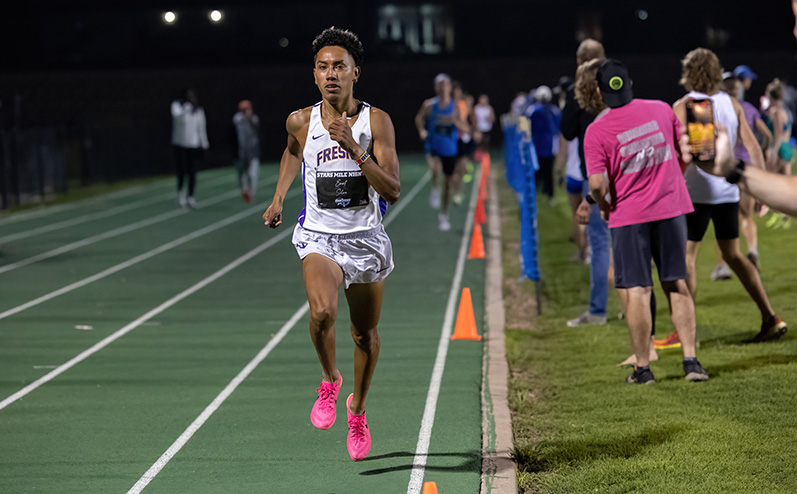 Last year, 154 runners participated in the inaugural twilight event. This year's OCU Stars Mile Night and Simon Greiner Elite Mile welcomed 264 athletes to the track at Bishop McGuinness High School.
To accommodate more runners, exhibition races were expanded to 17 heats for boys and girls age groups ranging from elementary school to adult. The Simon Greiner Elite Mile men's and women's brought the count to 19 races in one exhilarating evening.
Keegan Thomas, representing Stillwater High School, posted a time of 4:11.91 for a two-second PR and the fastest high school mile in Oklahoma in 2023.
In the Simon Greiner Elite Mile men's, Evert Silva from Fresno, CA, finished at 4:03.75 for the fastest time in Oklahoma this year.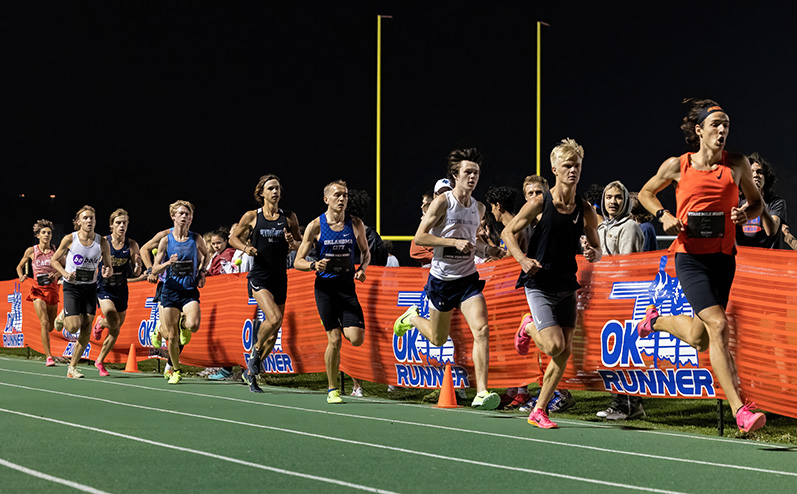 Finishing Strong
Of all the exciting finishes witnessed during the 2023 OCU Stars Mile Night and Simon Greiner Elite Mile, nothing can beat the presentation of the first-ever Simon Greiner Track & Field Program Scholarships to two deserving OKCPS student-athletes.
One scholarship is awarded to an OKCPS student-athlete continuing their competitive running career in college and is based partly on athletic performance
The second scholarship is awarded to an OKCPS student-athlete and is based primarily on academic merit and character.
Based on these qualifying stipulations, Aiden Kirkpatric from Classen SAS High School and Jasmine Cardenas from Southeast High School were each selected by the Simon Greiner Program Scholarship Committee to receive a $1,000 scholarship.
Aiden Kirkpatrick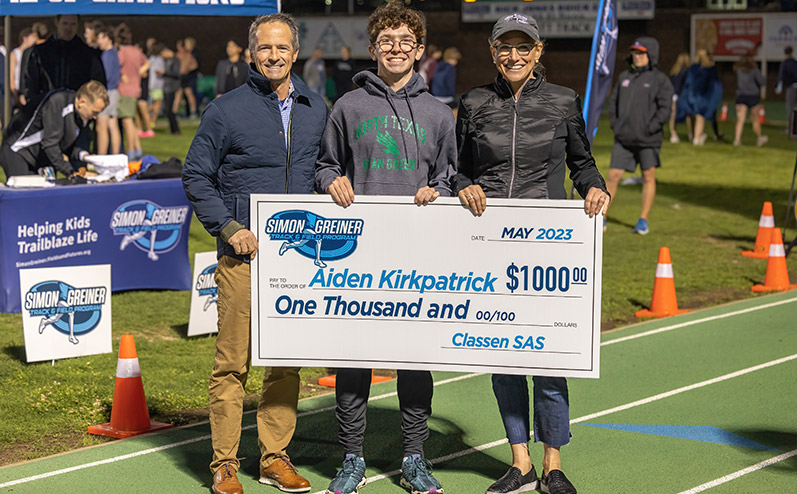 Aiden has participated in XC and Track all four years of high school and will continue his running career at the University of North Texas next fall. He is a four-time State Qualifier.
In the words of his coach, Carson Moon, "Aiden has been an integral piece in our team's success. As a team captain, he developed training plans for new runners, gave presentations to the team about how to get recruited, and helped to lead practice and mentor new runners. He is an International Baccalaureate student, and as a part of his Extended Essay, he wrote a 20+ page paper on the effects of altitude training on a runner's VO2 Max. In my opinion, he embodies all the necessary qualities of a successful student-athlete, and his maturity, leadership, and kindness enable him to benefit his community."
In addition to running XC and Track at the University of North Texas next fall, Aiden will study physiology.
Jasmine Cardenas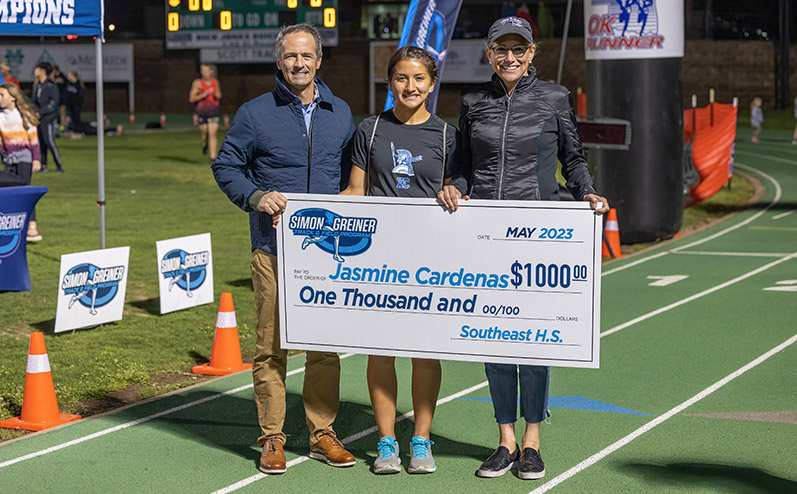 Jasmine is a five-time State Qualifier in Class 5A. Coach John Zehr said, "Jasmine is the hardest worker I know. She has been a rock within Southeast cross country and track for four years. In her senior season alone, she broke two school records in the 1600 and 3200 meters, amassed medals at nearly every meet we went to, and qualified for State in the 800, 1600, and 3200. The latter she earned by winning the 5A Regional at Moore. On top of her consistent running routine, she is in the weight room every day."
In the classroom, Jasmine is ranked 8th in her class at Southeast High School, boasting a cumulative weighted GPA of 4.22.
Jasmine will pursue a career in the medical field and study sonography at the University of Oklahoma next fall.