Success is all about the start.
Whether you're lining up for an Olympic race or helping kids discover their love for running, the way you come out of the blocks determines how you finish.
The Simon Greiner Program Track & Field Program knows the importance of an early start. As in, the earlier we can get kids to step on the track, the better.
When young runners are given the opportunities, support, and resources they are so desperate to receive, they are more likely to develop fundamental movement skills, cultivate a lifelong love for physical fitness, build discipline and goal-setting abilities, foster sportsmanship and teamwork, boost self-confidence and resilience, and explore their individual talents and interests.
With a growing emphasis on youth-focused track programs, the Simon Greiner Program has made steady strides in youth engagement over the past couple of years. But this year, it was time to sprint. Thankfully, several other community organizations and leaders were also ready to pick up the pace.
These running buddies included OKCPS Athletics, Oklahoma Sports Hall of Fame, OKC Parks, and Oklahoma City University Cross-Country/Track & Field.
Like us, they understand the importance of youth sports participation. Also, like us, they realize the participation barriers for cross-country and track are much lower than other sports. Getting youngsters excited to run just makes sense.
But how exactly do you do that?
Simple. You give them competition, medals, and cheering fans. You give them their own track meet.
The Fourmat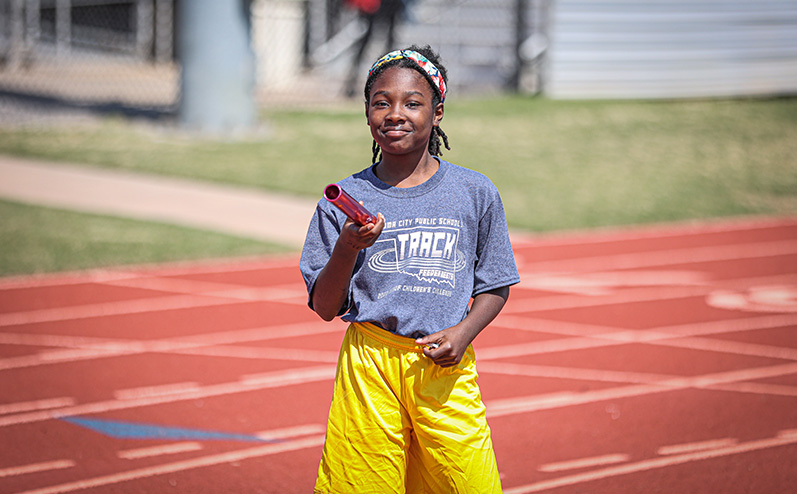 The inaugural OKCPS Elementary Track Championship Series consisted of four meets – three qualifying meets and a city championship to crown the fastest elementary schoolers and schools in all of OKCPS.
On May 2nd, Miller Stadium at Douglass High School hosted the qualifying meet for Douglass and Star Spencer feeder schools.
On May 3rd, Speegle Stadium at Capitol Hill High School hosted the meet for Capitol Hill and U.S. Grant feeders.
On May 10th, Speegle Stadium hosted the qualifying meet for elementary schools feeding into John Marshall and Northwest Classen.
And on May 17th, Speegle Stadium welcomed athletes, teams, and supporters for the OKCPS Elementary Track City Championship.
On the Right Track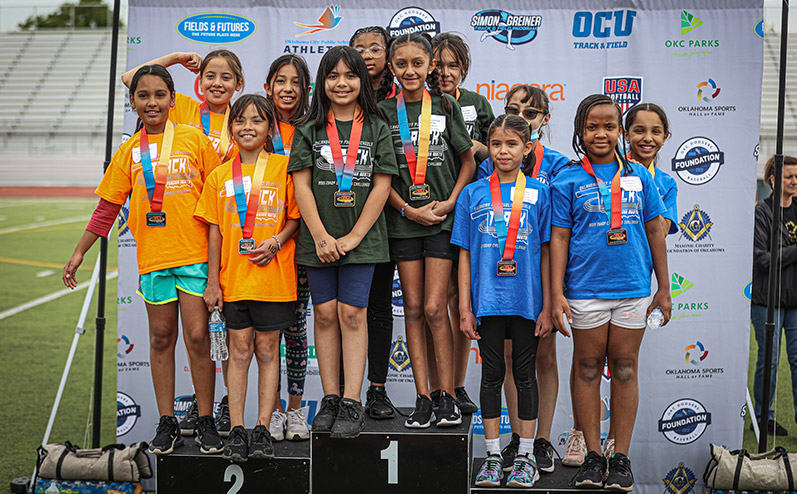 To say the kids were eager for the opportunity to compete is an understatement. An astounding 650 OKCPS elementary schoolers showed up to the meets to run their fastest, jump their farthest, throw their hardest, cheer their loudest, and smile their widest.
And of those 650 athletes, only 12 (plus two schools) can call themselves 2023 OKCPS Elementary Track City Champions.
Team Overall Champions
Girls Champion – Martin Luther King (46 points)
Boys Champion – Nichols Hills (49 points)
100 Meter Dash
Girls Champion – I'nia Robinson (Ridgeview)
Boys Champion – Ke'Montre McPherson (Prairie Queen)
200 Meter Dash
Girls Champion – Angeleah Choudry (Martin Luther King)
Boys Champion – Milo Hill (Nichols Hills)
400 Meter Dash
Girls Champion – Ka'Miya McKenzie (Bodine)
Boys Champion – Julilian Martinez-Palomo (Prairie Queen)
4×100 Relay
Girls Champion – Martin Luther King
Boys Champion – Nichols Hills
Long Jump
Girls Champion – Dahlia Archuleta (Coolidge)
Boys Champion – Silas Clark (Nichols Hills)
Softball Throw
Girls Champion – Eniyah Jackson (Britton)
Boys Champion – Isaac Perez (Spencer)
One day, maybe we'll be able to look back and see how this early start lead to the rise of bigger, more competitive cross-country and track & field programs in OKCPS. But our mission isn't to build programs and win state championships. It's to help OKCPS students succeed in life and reach their full potential through running.
Today, 650 kids are on the right track. And they got an early start.