The 2022-2023 school year has come to an end, but the finish line is nowhere in sight for the Simon Greiner Track & Field Program.
Even after hitting its stride this past school year, there's still more work to be done. More kids to coach. More opportunities to create. More lives to impact.
When the SGP first hit the scene in OKCPS a couple of years ago, the sports of cross country and track & field were afterthoughts for many students in the district. XC especially.
Track & Field has always been an easier sell for student-athletes looking for a spring sport. If you're fast, you run track when you're not playing football or basketball. If you're strong, maybe you throw the shotput. Cross country isn't nearly as flashy. It's grueling, exhausting, and really, really sweaty. It's how soccer players get in shape before soccer season.
Even though track & field has historically had higher participation rates than XC, you would be hard-pressed to find many OKCPS student-athletes who would list either sport as their primary sport.
Until SGP and Dr. David Crynes rolled into town.
Serious Fun
As the Simon Greiner Track & Field Program Director and Fields & Futures's Director of Athletic Partnerships & Student Success, Crynes has two main responsibilities:
Grow the sports of cross country and track & field in Oklahoma City Public Schools.
Help kids succeed in life by giving them opportunities, resources, mentorship, and support.
Crynes's strategy is pretty simple: Take it seriously; make it fun.
Over the past couple of years, Crynes has organized coaching clinics to keep coaches up to speed, held track and XC clinics for middle school and high school athletes, managed offseason programs to keep kids engaged, and coordinated district and community running events for elementary school runners all the way up to adults. In each instance, he has pulled in experts to help teach, coach, equip, and celebrate.
The response was almost immediate. Right out of the gates, interest and participation grew. Even in cross country.
Apparently, kids really want to run. All they need is some encouragement. And some equipment. And some coaches and mentors who are passionate about running themselves.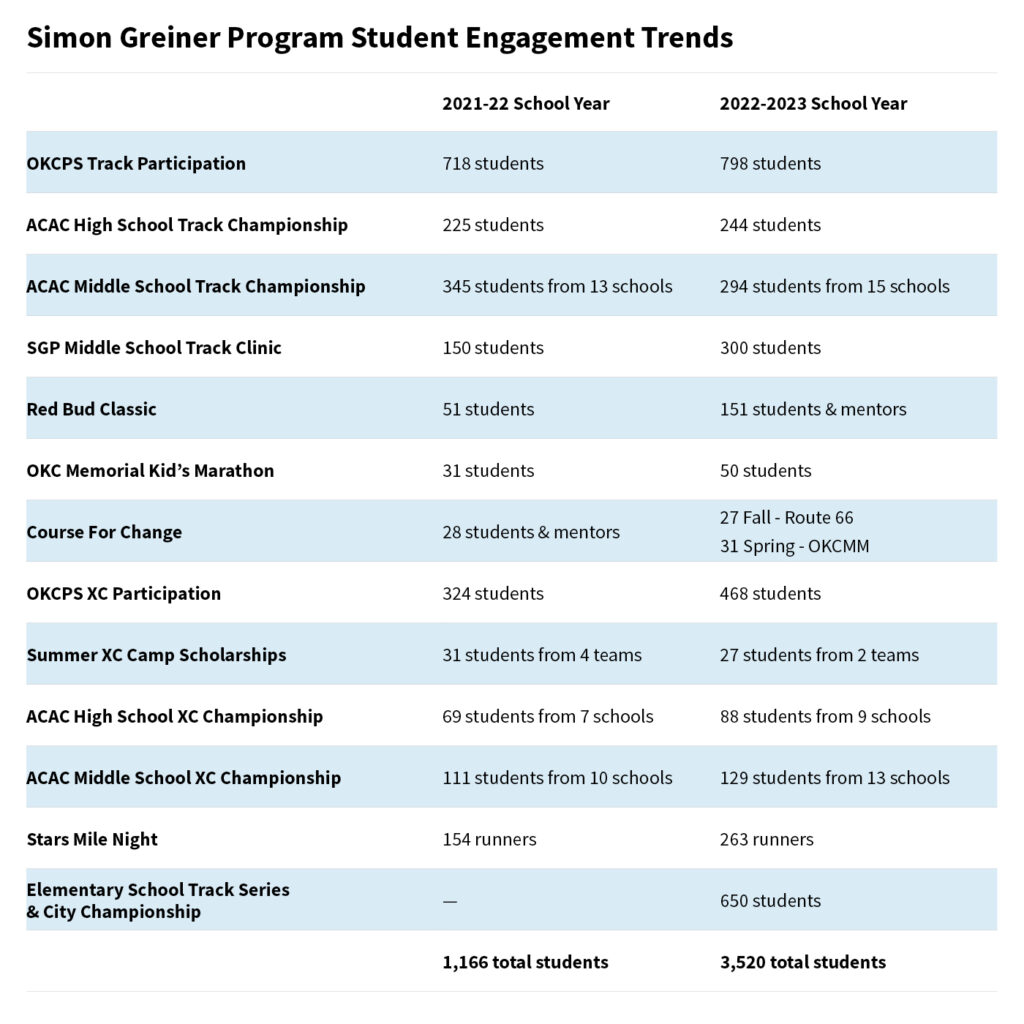 A Winning Culture
With OKCPS's running culture clearly taking shape, the next goal for Crynes and the Simon Greiner Program to focus on is to increase competitiveness.
When provided with adequate resources and opportunities, OKCPS student-athletes are among the best in the state. Now that those resources and opportunities are more than adequate, we're already getting a glimpse at how much talent literally runs through OKCPS.
In the fall, the Classen SAS boys XC team, led by Coach Carsen Moon, placed 8th in the 5A State Cross Country Meet. And at the state track meets this spring, OKCPS student-athletes brought home five gold medals.
Elijah Green from Classen SAS won the 4A Boys 400 Meter.
James Allen from John Marshall won the 5A Boys 100 Meter and 200 Meter.
Chloe Threatt from John Marshall won the 5A Girls 100 Meter.
John Marshall (James Allen, Kylin Drennon, Derek Shaw, Dorien Middleton) won the 5A 4×200 Meter Relay.
No Offseason
Where some running programs might see the beginning of summer as an opportunity to stop, catch their breath, and reflect on the past year, there's no offseason for Crynes and Simon Greiner Track & Field Program.
Despite the recent successes and accomplishments, there is still work to be done. And a summer clinic to run.
It's all gas and no breaks when it comes to growing the sports of cross country and track & field in Oklahoma City Public Schools.