As one of the NBA's brightest young stars, with an NBA All-Rookie First Team selection and two NBA All-Star appearances to his name in just five seasons, Trae Young's impact on the court is undeniable. But, it's his impact on the community through the Trae Young Family Foundation that makes Trae just as big of a star off the court.
Trae Young founded the Trae Young Family Foundation in 2019 with the goal of positively impacting the mental health of children and adults from all walks of life. When the Trae Young Family Foundation connected with Fields & Futures looking for a way to assist student-athletes in Oklahoma City Public Schools, we immediately recognized a slam-dunk opportunity.
And, surprise! It didn't have anything to do with basketball.
Cheers to the Trae Young Family Foundation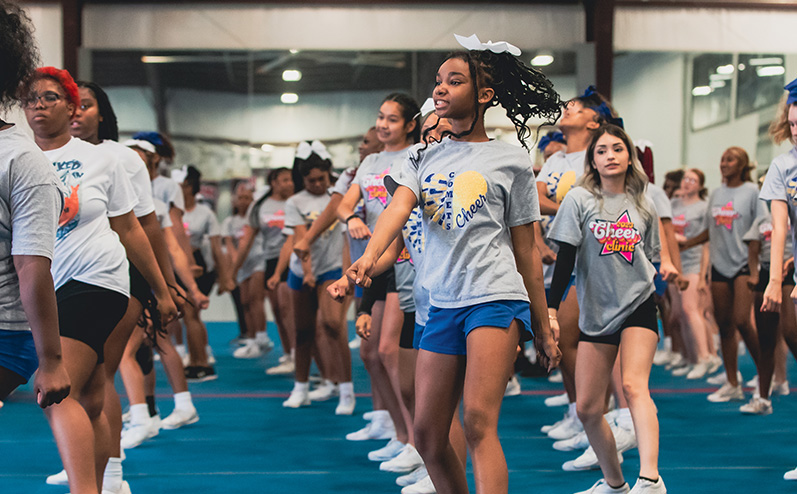 If you've ever been to a live sporting event, you know cheerleading is an essential part of the game-day experience. Beyond the choreographed kicks, flips, and chants, cheerleading offers numerous benefits for young student-athletes, contributing to their mental and physical well-being.
"From teamwork and social skills to positivity and perseverance, the lessons and soft skills cheer participants learn through the sport of cheerleading benefit them throughout their lives," said Mandi Dotson, Fields & Futures Event Coordinator and resident cheer captain.
Thanks to a huge assist from the Trae Young Family Foundation, the 2023 OKCPS Cheer Clinic provided 269 OKCPS high school and middle school students with the fundamentals every successful cheer squad needs – coaching, encouragement, camaraderie, and confidence.
Squad Goals
Tribe Cheer in Moore hosted the day-long clinic, with cheer coaches from Urban Cheer Experience providing instruction. Coaches focused on cheer fundamentals and taught the squads material for the OSSAA Game Day state cheer competition, including cheers, dances, stunts, and jumps.
"What Mandi has done over the years to help accelerate cheer as a sport for OKCPS is nothing short of amazing," said Fields & Futures Executive Director Dot Rhyne. "Working with OKCPS Athletics, they continue to innovate and find new, creative ways to elevate the sport and grow participation at all grade levels. With support from the Trae Young Family Foundation, we're excited to see where things grow from here!"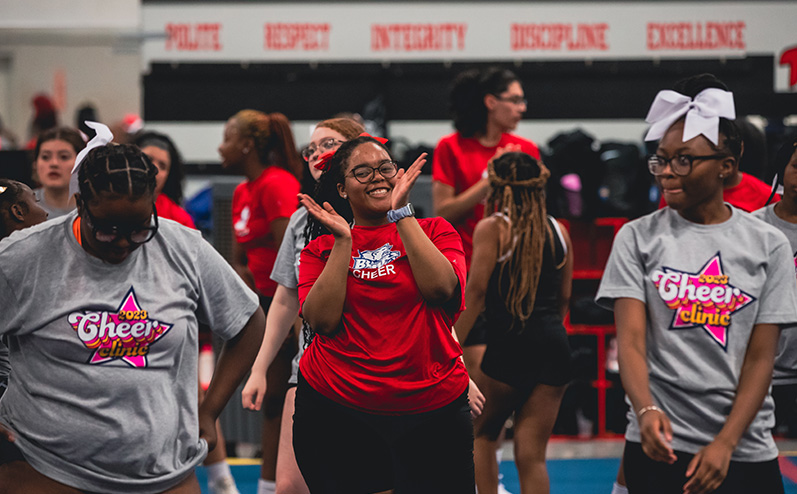 If you are interested in supporting OKCPS athletics and student-athletes through Fields & Futures programming, contact Dot Rhyne at [email protected] for info and opportunities.