When Brenda Hernandez was a senior at U.S. Grant High School in 1997, she was a member of the school's first girls' soccer team.
Always a proud Lady General, she had been involved in other school activities but Hernandez saw soccer as an opportunity to experience the world beyond her close-knit community. Even if they were just playing games in different areas of the Oklahoma City metro, she was hungry to see what else was out there.
Traveling from pitch to pitch, Hernandez gained the confidence and courage to chase after her own goals. While most of the girls on her team were focused on putting a ball in a net, Hernandez had her sights set on becoming the first person in her family to graduate from high school.
Following the U.S. Grant girls' soccer team's inaugural season, she scored that goal.
Following high school, she attended college. And later, with her husband, Jorge, she co-founded Tango Public Relations, a local PR, marketing, and communications firm that specializes in celebrating Hispanic culture and helping businesses and organizations reach and engage Oklahoma City's growing Hispanic community.
Today, Hernandez believes playing soccer helped change her life.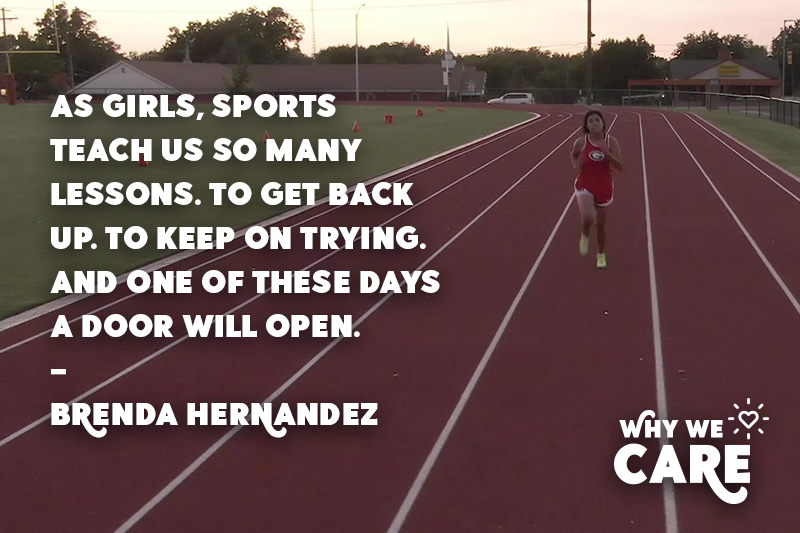 Joining a team gave her the opportunity to see a bigger world and proved she could shine in it. On the pitch, she learned perseverance; how to get back up and keep trying until a door opens.
Now a successful businesswoman, wife, and community champion, Hernandez continues to find ways to support her alma mater and pave the way for other young students to pursue their passions – and it's why she shares our passion for giving kids more opportunities to find purpose and belonging by joining a team.
She cares because more fields mean more lives changed. Just like hers.
Why We Care – Brenda Hernandez with Janet Herrera
Why We Care – Brenda Hernandez "Why I Care"
Why We Care – Brenda Hernandez "Why I Care" (Spanish)
Let us know why you care at FieldsandFutures.org/whywecare.